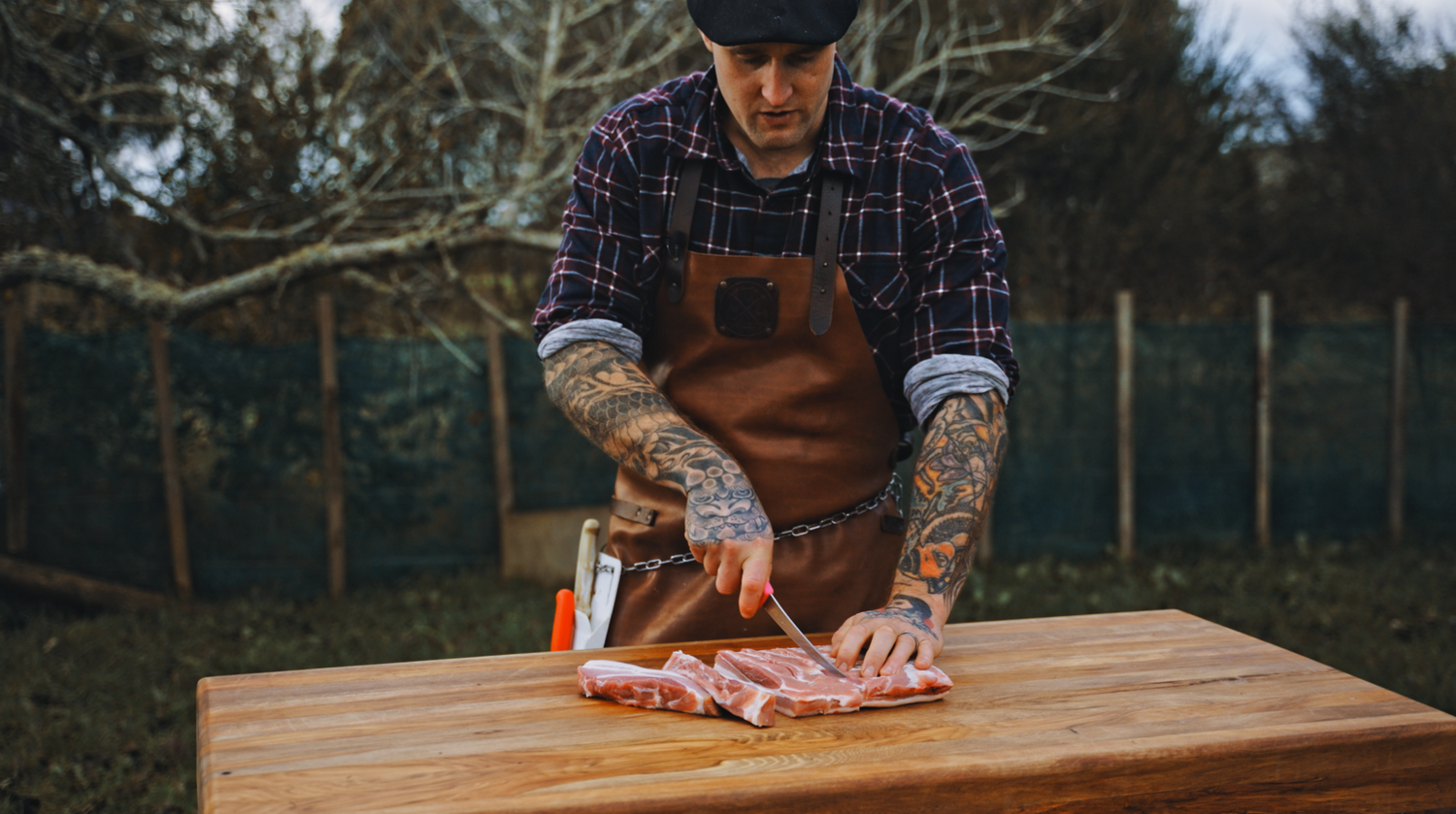 Get to know the lads behind CHOP online meats
Get to know the lads behind CHOP online meats
Meet James
My butchery career started 13 years ago as a night shift worker in a small butcher shop, from there I learnt the basics and managed to work my way up into a butchery apprenticeship at the age of 17.
 Six months into my apprenticeship I entered my first competition which really opened my eyes and instantly got me hooked! From there I competed in multiple competitions across New Zealand gaining a massive amount of knowledge and experience which eventually created opportunities to work alongside the best butchers in the country and overseas. 
Fast forward to 2022 and I have now competed in countless competitions across the world while also being a multiple Upper North Island butcher of the year winner, NZ butcher of the year winner in 2020, NZ Best Beef Product Winner 2020, International Butcher Wars podium finisher and a current member of the NZ Sharp Blacks since 2019 (National Butchery Team) 
With my butchery knowledge also comes my love for cooking, quite often spending my weekends playing with flavour combinations and also getting the opportunity to grow my skills by working alongside some of the best chefs in the country!
In 2019 "The Tattooed Butcher" was born when I walked on stage in a butchery competition in Sydney and it has stuck ever since! Now turning into my business giving me the opportunity to do demos, cooking and catering, recipes, brand ambassador work, clothing, a knife range and butcher blocks! 
I plan to pass everything I have learnt into CHOP Online Meats with quality cuts and a range of smallgoods that are second to none!
Meet Charles
I began my butchering career at the age of 15 as a washboy and meat packer on the weekends, at 17 I was offered an apprenticeship at the original Franklin Country Meats on King street in Pukekohe. It was here where I was taught the old school skills and values of butchering that have stuck with me throughout my career. After I finished my apprenticeship I moved to Australia where I worked in a butcher shop for 3 years before heading to Europe for an OE. While I was overseas I was told that the shop was up for sale, so I moved back immediately and bought it! I have owned my own shop for 9 years now and really enjoy growing and developing the business, experimenting with new ideas, keeping in touch with the latest trends of the industry and like to keep the old school work hard, play hard values going in the shop.
I always find time for a few beers with the boys. Usually standing around a barbeque, offering some questionable chat and marginal cooking tips to the chef. At least the meat is always top quality!
16 years later, it's time to crack on with a new venture, I'm looking forward to bringing my business knowledge, industry experience and butchering skills to Chop and see what the future holds!